Well, I'm back from Mexico and...my my my, when did winter get here?!? Must be time to break out the knits and sweaters and pants, oh my! In short...the Winter Wall is back at Fantasia. An ice block wall covered in winter goodness, some new, some from last season, but all sure to keep your character warm no matter what wintery theme they face.
"Tassel"-mod/copy/notrans
"Tassel" is a big, fluffy, warm looking knit sweater with tasselled edges. The fabric hangs low in front and back, but gathers high on the hip to show off at least a little sexy thigh, while the neckline dips to show other assets. Available for $L250 each, it's available in 5 pale colors. Try it alone, or with some tight pants for a more mainstream look!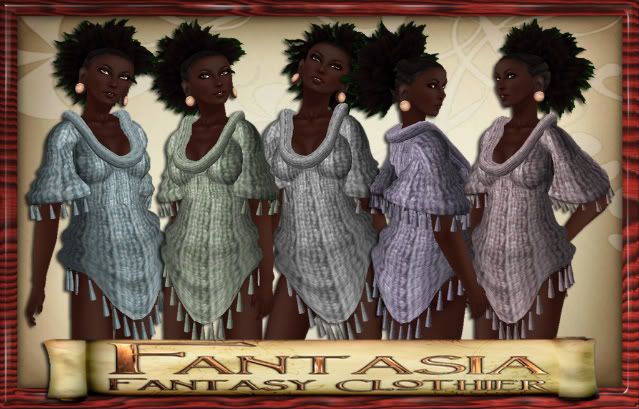 PS, totally un-asked for plug here, but if you like the barely parted lips look in this ad, run over to Nomine! Not only do they have great skins (like the one featured here) and clothing, but the owner recently released a freebie enhancement pack including the parted lips look, freckles and more. Parted lips without looking like a rabbit, gotta love it!
PPS, In case you hadn't noticed, I've redecorated around the sim. Winter has fallen over Fantasia Isle, and the frost fairies have been busy. If you explore down by the waterfall by FakE, you might find the passage to their secret home. Abide their rules though!