Ok, first things first. The SLURL to our store at Fashion for Life (aka, Clothing Fair). You'll get dropped off by the main store, but the red beacon will show you where we are. Look around though! Also...of all the silly non-builders to be invited to do so, I got the invite to build one of the sims. So, hopefully you all enjoy Arbus! That's my work too!
OPEN NOW!!
http://slurl.com/secondlife/Arbus/128/128/34
Now for the newness!
"Divided"-250L-mod/copy/no trans
"Divided" is a slightly oriental inspired high slave outfit. Modest and revealing at the same time. Open on the side and just barely covering the important bits, this outfit sports a high mandarin collar, cap sleeves, and a short skirt held in place with a swagged sash. Available in 6 colors, as well as a greyscale RFL exclusive!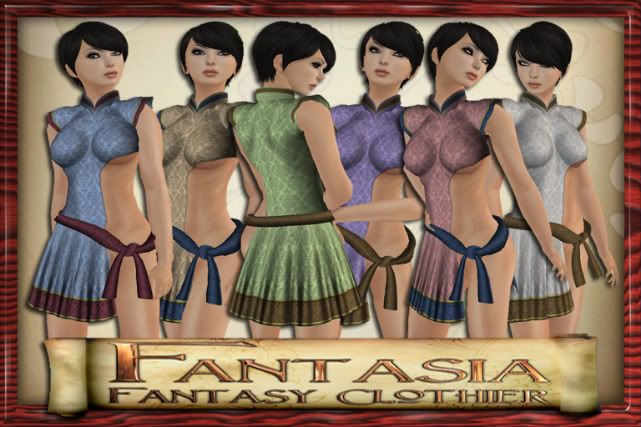 "Ebb"-350L-mod/copy/no trans
"Ebb" is more of a high fantasy gown then Gorean, but like most of our creations, the line is thin and well-blurred. The dress itself is form-fitting with an optional lace modesty shirt, teardrop open-back, and ornate belt with gems and braided silver. The soft, velvety fabric fades from pastel shades to white, trimmed with crushed black velvet. In addition to the dress, which can be worn alone, is a crushed velvet poncho with high collar and braided silver chains and large diamond pendant. If I was a mage, I'd totally be all over this. Available in 5 colors as well as a greyscale RFL exclusive!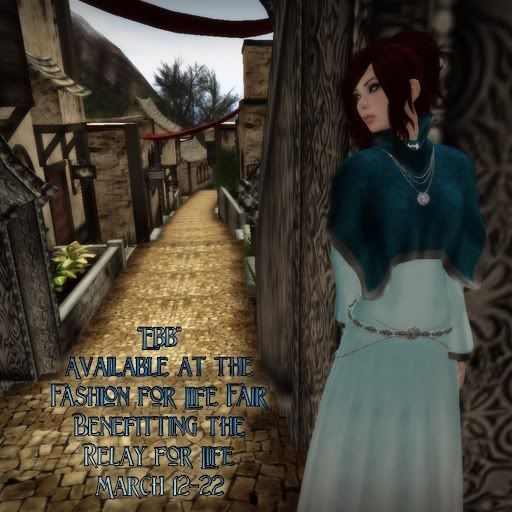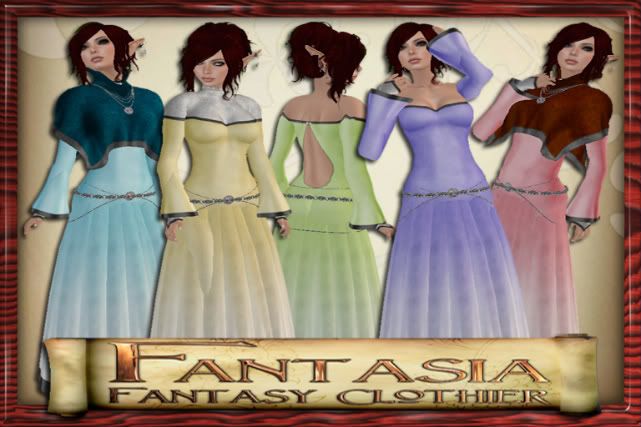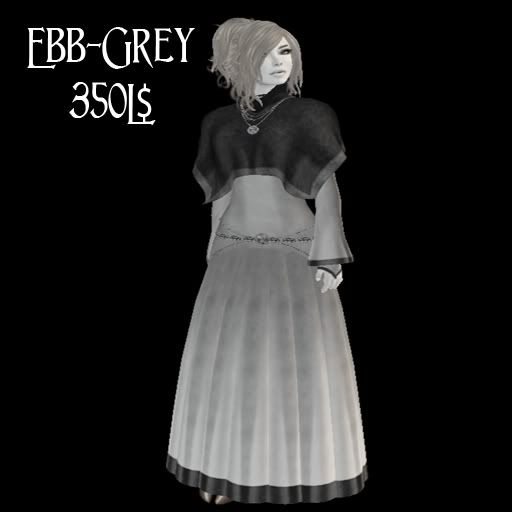 "Frippery"-50L per try at the Gatcha Pavillion!
"Frippery" is a simple hip sash with gathered skirt bits and a braided leather chain with small ornaments hanging from it. Pay the Gatcha just 50L (all of which goes to RFL) per try and get a random color!
I think that's it. I really hope you all will come out and do some shopping, all in support of a really great cause. Sabi and I participate every year to fight back against cancer, which has touched our lives far too often, and far too closely. This year I'll be relaying for my aunt, currently fighting ovarian cancer, and for my friend, currently fighting colon cancer. Both of these people, who have every right to cry and scream and ask "Why me?"...never have. They fight with astounding grace and fortitude, managing to be icons of strength as they face their deadly opponent. I can only hope I would fare as well.